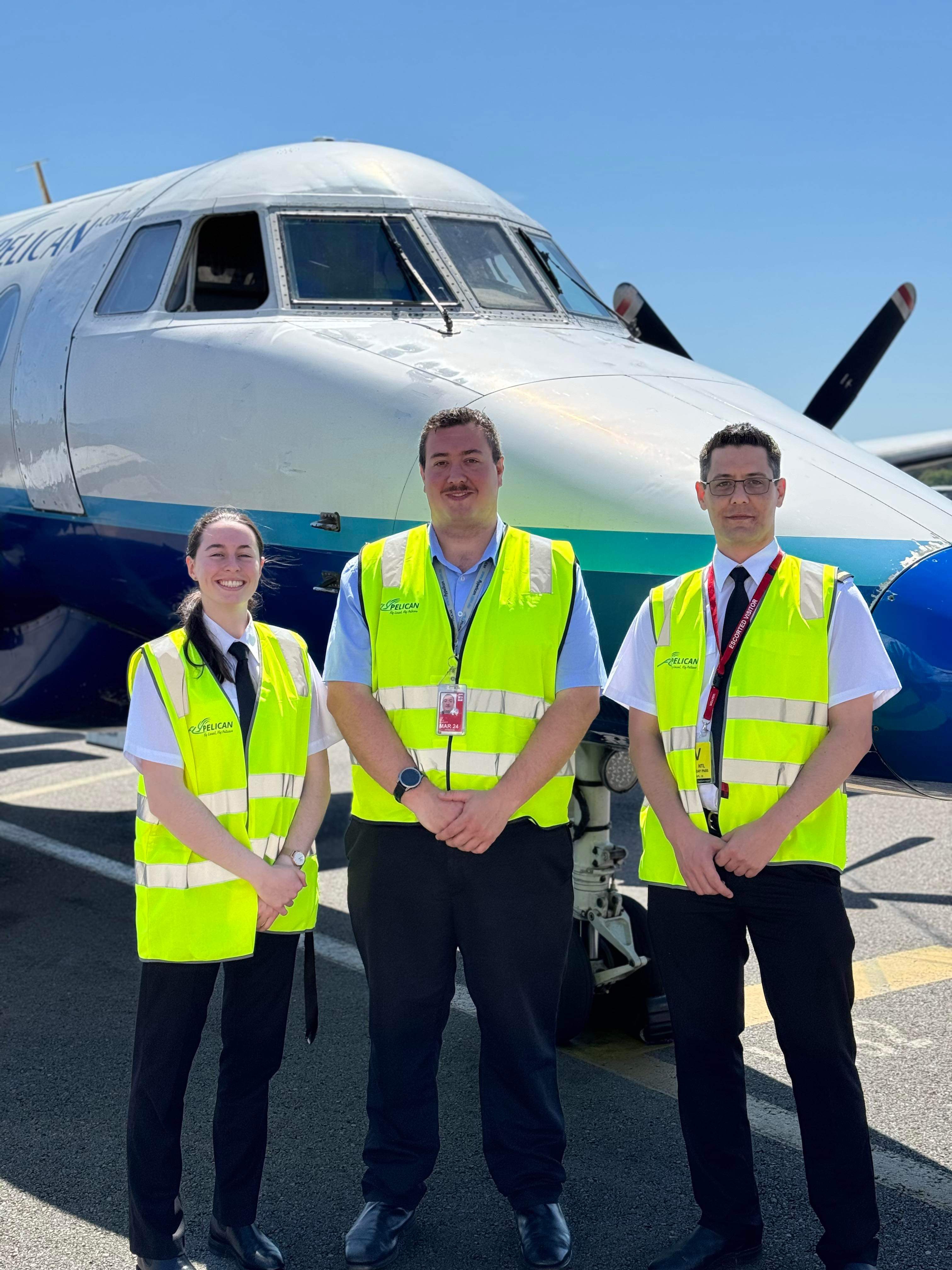 First FlyPelican Cadet Pilots Take-off
12 October, 2023
---
Full Newcastle Herald article located here
FUTURE pilots Rocco Musumeci and Cassie Potts are off to a flying start thanks to a new cadetship with Newcastle-based airline FlyPelican.
The program takes cadets from zero flight experience to the right-hand seat of a 19-seat turboprop plane in just 12 months.
Both cadets will head to Mangalore, Victoria, for intensive training six days a week with flight training provider Inbound Aviation.
"For me it's been a dream that I've had for a long time," Mr Musumeci said.
"It took a long time for me to be able to get myself to a position in life where I could afford to take that step, but now that I'm able to, it's a dream and I'm happy I'm able to do it."
At just four years old, Ms Potts told her father she wanted to be a 'plane driver' - now her childhood dreams are taking off.
"I kind of forgot about it growing up," she said.
"Then in 2019 I did a trial introductory flight and got up in the air and I was like, 'Yep, this is it. This is what I want to do'."
FlyPelican operates flights between Newcastle to Canberra, Ballina and Sydney as well as Sydney to Cobar along with closed air charter services.
It's an opportunity to rebuild the aviation industry, which has struggled with a pilot shortage since the pandemic hit.
FlyPelican chief executive officer Henry Murcott said it's a fantastic program for people looking to fast-track their career in aviation.
"We operate in and out of more niche markets servicing regional communities and keeping those communities connected to those centres," he said.
"We provide a pretty vital lifeline in regards to connectivity and cargo as well.
"This is part of the bigger picture, the industry is definitely not back to where it was pre-COVID, a lot of crew moved offshore to the US and larger airlines but this is part of that picture of recovery and moving forward."
It's an interesting career change for Mr Musumeci, who completed a science degree and ran businesses before becoming a cadet.
"I go out and look up and those planes and go, 'wow,' this is a multi-million dollar machine and I'm going to be able to fly it around the country - that's huge," he said.
"The career progression as the machines get bigger and bigger, it's huge.
"For me to be entrusted to sit in that seat and do that job is a very motivating thing for me, it's a bit overwhelming, a bit crazy at times looking at it but it's very exciting."
The program essentially affords cadets the opportunity to save years they otherwise might have spent as flight instructors gaining their hours before joining an airline.
Inbound Aviation managing director Tom Gollan said even with the time saved, it's far from a Monday to Friday, 9 to 5 program.
"It's very intense, it's a bit like the military in that sense where their whole day revolves around flight training," he said.
"If you think about a university program you do over three years, we're basically cramming that into 12 months.
"They're there six days a week, 10-hour days, but what it's doing is conditioning them for what it's like in an airline, that's the expectation."
He said pilots have to be able to make split-second decisions with limited information and when choosing cadets, they're looking for people with motivation, resilience, emotional maturity and intelligence.
"You're working in a multi-crew environment as well, so interpersonal skills and teamwork are big," he said.
Once the pair have completed their ground theory, they'll start training on empty flights before moving onto planes with passengers on board.
Ms Potts said she can't wait to jump in the co-pilot's seat.
"I love the feeling I get when I'm up in the air flying, it's a little bit like adrenaline, I get a bit of euphoria when I do it," she said.
"Especially seeing the bigger aircraft as well, that's what I ultimately want to do."
The pair are the first intake of cadets, with more expressions of interest to go out in January 2024.
Madeline Link
Journalist